crocodile garden
Crocodile garden can look at street crocodile of the name. Among 30 kinds of unusual crocodiles distributed over the world, 27 kinds of large small about 350 are bred. It is written in a pamphlet like next. "It is praised as the leading collection in the world in numerousness of kind."World one seems to be still a rule to a sightseeing spot.
A road is sandwiched in, and there is this garden in an opposite side. This can come and going on foot.
As for the romanization of "ATAGAWA banana wani en", there isn't a conjunction during a banana and a crocodile. Therefore when there is a crocodile of kind of "banana crocodile", I am apt to misunderstand it. But unfortunately such a crocodile doesn't exist.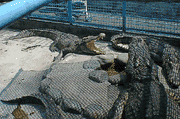 I will go down stairs to crocodile garden from ticket booth. Will hot spring heat bring a Japanese climate close to Tropical Zone where a crocodile lives? Heat with moisture clings to skin somehow.
A crocodile is a creature large-scale comparatively. But there isn't a lot of crocodile garden much broadly unexpectedly either. Therefore several crocodiles overlap in small space.
Height of the cage which there is a crocodile is around 1m. Because a fence surrounds the circumference, a big tongue of a crocodile may approach a face of oneself whom it is removed, and is crowded if a crocodile jumped. I try to look at a crocodile while thinking about such a thing.
However, a crocodile does still most and, besides a crocodile swimming in a pond, doesn't move. A crocodile doesn't make it be a slight shock in spite of what overlap unnaturally. There is a crocodile too a crocodile too opening mouth. I didn't anticipate anything particularly, but the animal which doesn't move may not be much interesting.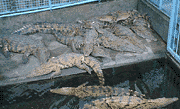 And the condition that a crocodile hatches from an egg and frame specimen, fossil specimen of a crocodile of Japan ancient times are exhibited here, too.
From an alligator and the large-scale crocodile which went to India gabial who had a mouth pointed like a bill of a bird.In the inside of a garden, a crocodile is dull somehow. A crocodile can be taken close at hand comparatively. Therefore a crocodile will had better avoid the person of weak point.